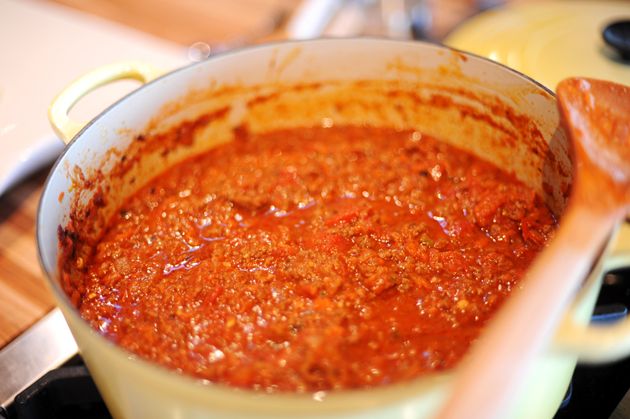 We drove seven hours yesterday. We road tripped it to see a family memeber's first new house. Needless to say that I was shattered by the time we got home and cooking was the last thing on my mind, so I pulled out a freezer meal, perfect for this occasion.
The ever faithful bolognese sauce.
I learnt this recipe after my husbands grandmother gaffed at the fact I used jar pasta sauce.
Its so easy that I have never ever used bottled sauce again.
These are all approximate as I never really take much notice of quantities. I go by taste.
Pasta Bolognese by Debbie
This sauce will keep for five days in the fridge or six months in the freezer, so divide it into handy portions and freeze for later use.
600g minced beef
3 rashers chopped bacon
1 onion diced
1 celery sticks diced
1 small or 1/2 capsicum diced
2 cloves of garlic
1 bay leaf
1 beef stock cube
1 cup of water
splash of red wine, vodka or gin (if in the house)
1 carrot grated
150ml extra virgin olive oil
2 tablespoons of tomato paste
1 420g tinned chopped tomatoes
teaspoon of sugar
Pack of pasta
How to:
Put a large pan over a medium-high heat, add olive oil. Fry off capsicum and onion. Add the beef mince, fry until it has changed colour, then add the bacon, garlic, celery and carrot. Cook for 15 minutes, stirring frequently.
Add the chopped tomatoes, bay leaf, beef cube and the tomato paste. Add the red wine if you have it and cook for a few minutes. Season with salt, pepper and sugar. Simmer the sauce for 20minutes (longer if you have the time) or until the meat is very tender. Cook pasta according to the packet instructions and serve the pasta (traditionally tagliatelle) with a large spoonful of the sauce and a sprinkling of Parmesan cheese.
Enjoy!
{content Debbie Russo image with thanks to
here
}