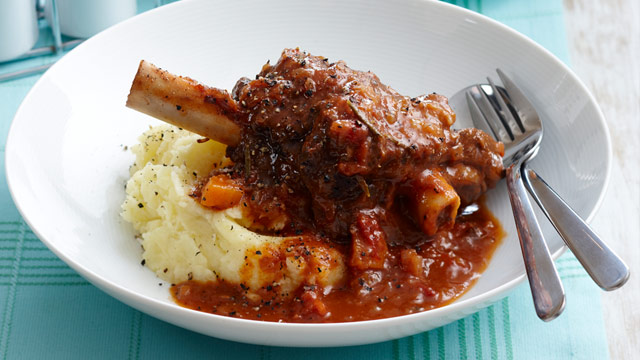 Good things come to those that wait is a saying I half-heartly believe except when it comes to lamb shanks. You can't rush a good lamb shank recipe and this one is no exception. This has to be my favourite winter meal.
You throw everything in the slow cooker in the morning, head to work and after a big day I swear there is nothing better than coming in from the cold to the smell of this.
The best slow cooked lamb shanks. 
What you will need:
2 tablespoons olive oil
4 French-trimmed lamb shanks
1/2 cup plain flour
2 medium brown onions, chopped
2 medium carrots, chopped
4 cloves garlic, crushed
2 tablespoons tomato paste
1 cup red wine
2 cups of beef stock
2 x 400g cans chopped tomatoes
2 tablespoons sugar
bouquet garni made up of bay leaf and rosemary.
How to:
1. Heat half the oil in a large frying pan.
2. Toss the lamb in flour that has been seasoned with salt and pepper; shake away excess. Cook lamb over high heat until browned all over; transfer to the bowl of a slow cooker.
3. Add remaining oil to the same pan with onions, carrots, and garlic; cook, stirring, over medium heat for about 2 minutes or until the onion is starting to soften. Add the tomato paste; cook, stirring, for a further minute.
4. Add the wine to the pan; bring to the boil. Stir in stock, undrained tomatoes, sugar and bouquet garni. Bring to the boil; pour over the lamb in the slow cooker, making sure the lamb is covered by the liquid.
5. Cover; cook for 6-8 hours on the low setting or until lamb is soft and falling off the bone. This will depend on your cooker.
6. Remove the lamb from the slow cooker; cover to keep warm. Turn the cooker to the high setting; cook, uncovered, for about 30 minutes or until sauce thickens slightly. Remove any fat from the surface.
7. Serve the lamb with the sauce, mash potatoes and a green vegetable.