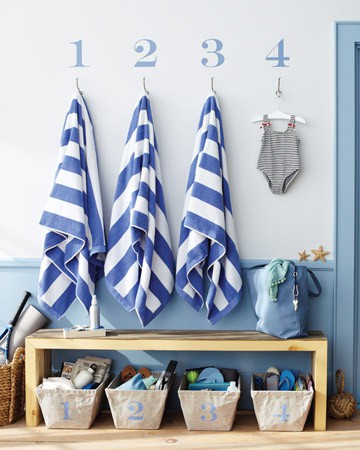 Part of staying sane with three boys is being organised, especially with all their activities after school such as swimming, basketball etc. So I have a take on this idea of having all their extra cirricular bits gathered in my laundry (although one day I will have a mudroom as well as a laundry. The idea of a mudroom is just so practical) on the floor under a bench not unlike this one, that way they can sit to put their shoes on etc. It just has to be done I got so tired of the chaos before, after and during a game looking for things. It makes the event unpleaseant all that chaos before hand.
So instead of lovely linen baskets which although look lovely are completly impractical for keeping everything in including shoes. Instead I use square plastic buckets instead with big luggage tags with each boys name on it. Using the buckets is easier to keep clean especially with the red dirt here in Nth Qld and it doesn't matter if my two year old B3 decided to cart it around the back yard. They also can be picked up and taken straight to the car.
In our house it works like this. The morning before say swimming the boys are responsible for ensuring they have everything they need in that bucket, they no what they need. If they dont have it they go with out. Simple. After each activity everything is placed back in its bucket or hung on its hook and if its lost or not there they go without until the next buying round which happens only twice a year.
Each boy also has a hook for his school bag, winter coat and hat. The same rules apply.
xxD