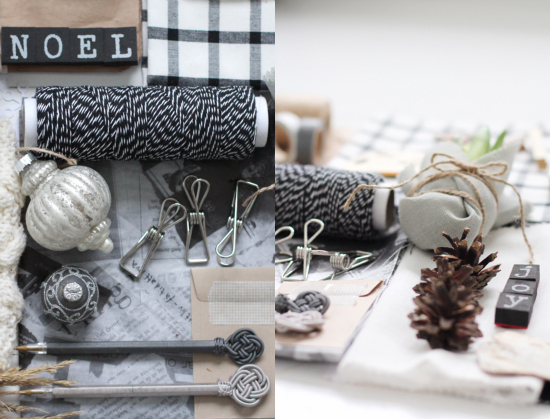 Okay so we are back to the subject of Christmas. Christmas this year is FIFO and for me is next weekend and I have not brought a single gift…not even for me!! I have a list, the kids have written their list (Santa collected Sunday night) husband now has a list. FIFO Husband has a list for me as he does every year and each year I ask myself why is it men never take note when a women say's "ooooh I wouldn't mind that very expensive impractical white jacket or overpriced perfume" through out the year; storing that information away for these occassions when gifts are required? No I must physically write a list; which I have tendency to go overboard with, as you do, as you should. Never be afraid to dream big I say..lol.
So I have all the lists done but Ive not brought a single thing. What I have managed to do which is ever so important..lol.. is find a mood board that I like to head me in the right direction for the wrapping (notice the word 'found' instead of 'create') I'm just too tired to create a mood board of my own so I have stolen/borrowed the idea from www.stylizmo.com which works just as well for me and she is so so clever and a little bit my style. This year for me its black, silver, a twine naturally colour and whilst its not in her mood board it wouldn't be me if there wasn't a hint of red in there.
I love wrapping presents and writing the Christmas card list is one of my favourite things to do. One evening after the kids have gone to bed I put on the carols, have a glass of red; only when FIFO husband is home, and wrap and write away all under the twinkle of the lights, it gets the Christmas feeling started. I do have a confession though (number six) I don't do it for the kids (wrapping that is) well I do just not the fancy stuff. I literally by the six rolls for a dollar and wrap and throw under the tree. Its a waste don't you think? Wrapping all fancy for little ones? They literally don't even attempt to find the sticky tape and slowly open with anticipation. NO in my house its a rip fest often created and encouraged by my eldest boy FIFO husband. The adults gifts; yes I go all out especially my thank you gifts. For that I go all out. Its all part of the love and thanks I want to show, its all part of the giving.
xxD
Ps. B1's op went all good he did me very proud.Thank you so much for the emails